The users who are using BIDA smart locks, do you understand its features? Let Xiao Bian introduce the product features of BIDA smart locks to help everyone use smart locks better. Let Bida smart lock play better protection for the family!
Must be smart lock features
AN2 electronic anti-theft lock tongue

Must-have smart lock stainless steel AN2 electronic anti-theft lock tongue. It meets the high quality requirements of the ANSI/BHMA standard of the Building Manufacturers Association, and part of the tests have reached 10 times the national standard. The metal nanopowder coating treatment is performed on the key mechanical parts to improve the mechanical performance and service life in all directions.

With super-B lock cylinder

Must be smart lock I3 new upgrade super B-level lock core, with ultra-security anti-unlocking performance. The more complex the lock core, the longer it takes to unlock the lock. Super-B class locks on the market are currently the most secure grades, and the keys and the corresponding lock cylinders are the most complex. It will take at least 270 minutes for the technical lock to be unlocked, which is far more than 1 minute for the A-level lock cylinder and 5 minutes for the B-level lock cylinder. Have a higher level of security.

Smart 3+X Smart Lock Management

Must have an Hyun series I3 fingerprint lock also has fingerprint, proximity card, password three kinds of unlocking module, in order to meet the application needs of all parties: for the temporary occupancy of the sensor card; for the owner's fingerprint and ID card unlock; emergency response Password unlocked. Wireless remote control module can be optional to bring a new experience of remote control. The industry's three-year fingerprint head warranty service brings long-term stable security services to home users.

Split Fingerprint Module Design

Similarly as a fingerprint lock, Bidida I3 is also much higher in security performance than the industry's competing products. It uses a split-type fingerprint module to separate the user information from the fingerprint collection device, rather than the integrated design of the market, avoiding the replacement of fingerprints. Module and security risks arise.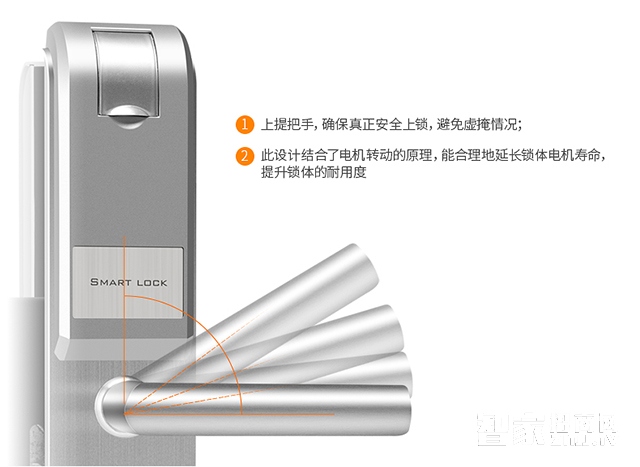 Original handle bearing structure must

The smart lock surpasses all the technical problems that cannot be solved by all manufacturers. The original handle bearing structure has a low coefficient of friction during operation and a smaller natural loss. This results in better mechanical efficiency, a more comfortable feel, more stable quality, and more. Long service life.
Must be smart lock technical parameters
Unlocking method: sensor; password; fingerprint; mechanical key

Mechanical material: aluminum alloy lock body

Fingerprint recognition: 500,000-pixel CMOS recognition; resolution 500DPI; recognition speed ≤ 1 second; misrecognition rate ≤ 1 millionth; rejection rate ≤ 10,000

Electrical performance: battery supply voltage DC 6-9.6V; static power consumption ≤ 70uA; dynamic power consumption ≤ 400mA

Working environment: -20 to 60 degrees Celsius; 20% to 93±2 RH (non-condensing)

Power supply: 6 AA alkaline batteries; 9V stacked battery emergency power supply

The above is the functional features of BIDA smart lock products introduced for everyone. We hope to help you better understand the smart locks, familiar with the structure of smart locks, and use smart locks to be more proficient. Thank you for reading!
Related browsing
Article: How much is the price of a smart home controller?

Recommended: How does Haier smart lock join?

WIFI Smart Lock (http://zns.znjj.tv)-Professional smart lock agent joining website, providing the industry's most comprehensive intelligent fingerprint password lock joining agent, smart lock product library, smart door lock price, smart lock brand , smart lock manufacturers Daquan information, welcome to browse online consulting.

Electronic Door Lock,Tower Base Station Electronic Locks,Electronic Locking System,Electronic Door Locking System

Ningbo Hengchieh Locking Technology Co., Ltd. , https://www.hengchieh.com