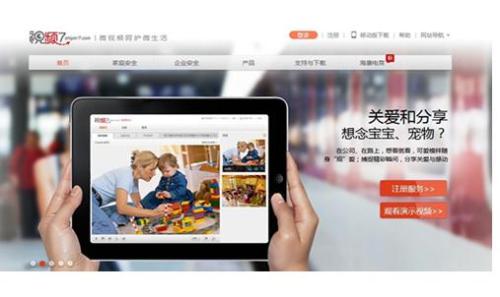 On July 18, the e-commerce platform "Haikang E-Commerce" (http://mall.shipin7.com/) was formally launched. The e-commerce platform was independently developed and operated by Hikvision, a leading company in the security industry, and launched on the first phase. Hikvision provides multi-functional high-definition network cameras for small and micro enterprises and the civilian market, and provides corresponding supporting services.

Haikang E-commerce is positioning itself as a convenient and experiential shopping and online service platform for end users such as homes and shops. Hikvision does not merely provide hardware products, and the micro video service portal "Video 7" can provide richer value-added services. Users can easily view real-time video and historical videos of apartments, shops, offices and other places; through "Video 7" The alarm service can also receive the abnormal information of the place of interest immediately and take safety precautions as soon as possible. The slogan of "Video 7" is 'Micro Video Care for Micro Life', which means that users can care for their family and protect their family at any time and in a convenient way. They can help business owners look after shops at any time to achieve safety and business success.

"Haikang E-Commerce is an initiative of Hikvision to enter the civilian market. It mainly sells products and services for the civilian market on e-commerce. It is a new sales channel model developed by Hikvision." Video 7 Platform was founded Jiang Haiqing, vice president of People and Hikvision, stated that "through the Internet marketing model, manufacturers and end customers establish a direct relationship, that is, to meet the needs of the civilian business focus on user experience, easy to use, easy to purchase, and easy service, but also to make Users have a direct and fast communication channel to improve the effectiveness of communication and the targeted products and services."

Hikvision is the first self-built e-commerce platform company in the domestic security industry. The self-developed e-commerce platform "Hai-Kang e-commerce" (mall.shipin7.com) is officially launched for civil security and security. For companies and even the entire security industry, it is a very important event. Security leading enterprises have started to use civilians as their strategic focus; it also means that the combination of security and e-commerce has risen to a new level. Market participants believe that Hikvision's move means that the domestic security industry has officially extended to the civilian industry and opened up a larger and imaginative market space.